Scroll down to find whatever you might need.
If you do seminars and workshops, this is the program for you.  Two days jammed packed with advanced skills, techniques, tools, materials, and coaching that will kick your events up to a 75% or higher appointment ratio!
Dates & Location To Be Announced
Fee is $1500 / Teams $1000 per person / Assistants are FREE!  
We will cover in detail:
Why workshops work: 10 benefits you didn't know! 
Prepping the stage: detailed pre-show planning
Structuring and organizing the content for maximum understanding
The Power Opening: how to wow them from Minute One 
Stories: When and why to use them & how to tell them well
The 5 types of stories that work and the 3 that don't
Framing statistics to give them meaning
5 simple Powerpoint tips to punch up your presentations
Mastering the dreaded Q&A session
How to triple your appointments with 2-Part Power Close
How to work with guest speakers & partners
Handling tough crowds, DIYers, gripers, & snipers
Injecting humor and fun into dull content
Audience engagement exercises
How to do a great commercial without selling
Materials to hand out that they will love
Explaining complex ideas with analogies and metaphors
Improving your physical presence and vocal impact
How to self-coach and be your own most valuable critic
Finding your natural speaking style
Shifting gears for really small or super large crowds
How to increase your reach with other types of speaking

All this PLUS…1 year of free coaching with me! 
This is a lot to cover in two days and we're going to move at a good pace. So come prepared to work and learn.  After 4,000 financial presentations and 35 years of training advisors, I've learned a few things that are absolutely going to make a huge difference in your workshop results.
BTW…these are NOT heavy-handed or slick sales tricks. Those days are thankfully LONG GONE!  They are modern strategies for genuinely bonding with your audience so that you can thoughtfully and professionally help them succeed. Of course you will do more business, but you will be doing it the right way…as a valued and trusted advisor…not a salesperson. 
Advisors who are using these skills are not only generating more appointments, they are building trust and deeper relationships right from the start. 
They are powerful, proven and content-neutral. It doesn't matter what your topic is. The skills you will learn are universal and can apply in almost every situation.  They will even help you in one-on-one meetings. 
The cost is $1,500 not including hotel or airfare. Teams are only $1,000 per person and your admin assistant can come for free!  Click below to reserve your seat(s) today. Or email me at frank@maselligroup.com if you have any questions.  
I can't wait to see you in Charlotte!
NOT CONVINCED YET? 
Think about it, you spend tens of thousands of dollars on seminars and events. Doesn't it make sense to maximize the business results of each one? If you pick up one additional client all year from these techniques, the program will have paid for itself ten times over. That's a 1,000% return on investment!
I am a recognized industry expert in all forms of seminars and presentations. I have helped thousands of advisors improve their skills and worked with almost every firm in the industry. I've made and seen more mistakes than you will ever experience. Put this knowledge to work for you. 
Tiny shifts in your delivery can make gigantic differences in the mind of your audience. The way you say certain things, the look on your face, the analogies you use, the humor you inject, the stories you tell— even your movements and gestures have a massive impact.
After applying only a handful of these ideas you will see your appointment ratio climb. You will notice that people WANT to work with you. Your seminars will become powerful client-generating machines and you will start having more fun than ever before. Your new question will be "wow many more of these can I do, because THIS IS WORKING!"
Price: $1,500 (not including your travel or hotel)
——-
NOTE:  If you are part of a team, the cost is only $1,000 per person.  And your admin assistant can come for free.  Please e-mail me to make these arrangements. They must be done manually. 
I am at frank@maselligroup.com or call 919-329-2723.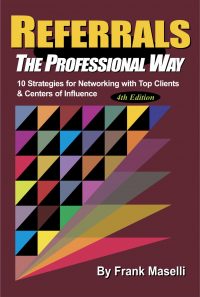 Referrals the Professional Way:
10 Strategies for Networking with Top Clients & Centers of Influence (4th Edition)
Our industry is plagued by an ineffective referral process and ancient sales techniques. Well, those days are gone! No more begging for names or heavy-handed, arm twisting. This book will teach you a new way of asking for referrals from your very best people that makes you look like a hero in their eyes. And, even more important, it makes the overwhelming fear of referrals in the client's mind go away! It's a revolutionary set of ideas and a very simple, honest approach to one of the greatest challenges advisors face.
Price: $35.00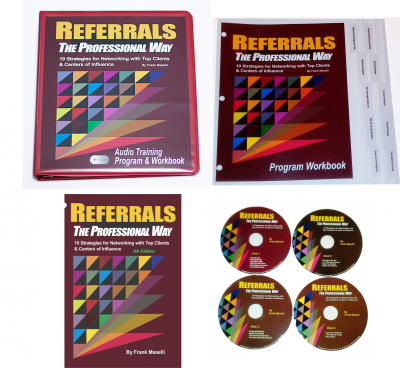 FULL Referral Training Program
Book / Audios / Implementation Workbook!
If referrals are important to you (and they should be) this program will dramatically enhance your success!  It contains everything you need to implement the revolutionary ideas in Frank's best-selling book. This is the entire 5-hour training program on 4 audio CDs that will teach you the specific skills you need to make referrals a major part of your world. No more begging for names. It's a whole new approach that takes the fear away from the client and makes you look like the trusted professional you truly are!
The workbook includes all the documents you need to create your own referral process, after all, without a process all you have is wishes. This will give you specific steps and will walk you through how to complete them.. There's no need to re-invent the wheel, it's all in here! You will also receive the downloadable PDF.
Price: $749.99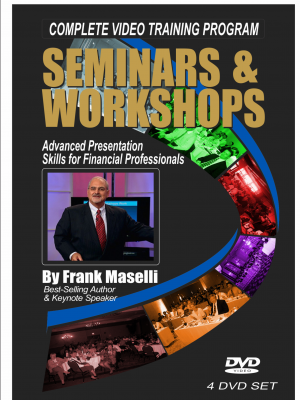 Advanced Seminar Skills DVD Set
The Complete Training Program on Video
This video set contains everything you ever wanted to know and even more stuff you didn't even know you wanted until you see it.  The skills you will learn on these videos will dramatically increase the business results of your workshops.  And you get one hour of free personal coaching from me to make sure you can adapt and implement the techniques in here.        
Price: $599.00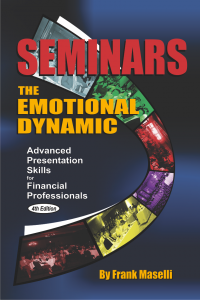 Seminars: The Emotional Dynamic
Advanced Presentations Skills for Financial Professionals (4th Edition)
Start doing the best seminars and workshops you've ever done! This book has become the industry guide for seminars, workshops and presentations of all kinds. The fourth edition contains new ideas for today's challenging times including a new chapter on generating attendance with White Glove. Learn how to do effective seminars and drive your business to new levels of success! Don't even think of doing an event before you read this book. It will save you a lot of pain and wasted time, and possibly double your seminar results!
Price: $35.00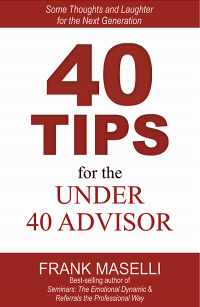 40 Tips for the Under 40 Advisor:
Some Thought and Laughter for the Next Generation
A bold new generation of advisors is taking over the profession and they're in for an incredible journey!  If you're part of the "under 40" group, this book will help you avoid some potential pitfalls and help you navigate the dangerous times yet to come. If you're over 40, you may still find tremendous wisdom and insight in these tips. They come from three decades of real-world, in-the-trenches experience as an advisor, a top manager and an advisor coach. Nothing in here is fluff or theory… they're all battle scars baby!
"It doesn't matter how old you are…this is a MUST READ book!" Greg M. – Merrill Lynch
Price: $19.95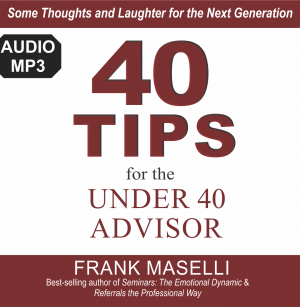 NEW AUDIO BOOK DOWNLOAD!
40 Tips for the Under 40 Advisor
Some Thought and Laughter for the Next Generation – AUDIO
A bold new generation of advisors is taking over the profession and they're in for an incredible journey!  If you're part of the "under 40" group, this book will help you avoid some potential pitfalls and help you navigate the dangerous times yet to come. If you're over 40, you may still find tremendous wisdom and insight in these tips. They come from three decades of real-world, in-the-trenches experience as an advisor, a top manager and an advisor coach. Nothing in here is fluff or theory… they're all battle scars baby!
"It doesn't matter how old you are…this is a MUST READ book!" Greg M. – Merrill Lynch
Price: $49.99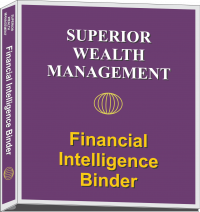 This is a modern, professional, easy way to reach wealthy prospects…and a strategy you're going to love!  It's simple to do, cheap as dirt, totally compliant, takes very little energy and effort, completely unique and IT WORKS!   We're seeing appointment ratios as high as 50%!
This package contains a complete walk-through of the whole process plus samples of everything you need to start TODAY!
Prospecting doesn't need to be painful. You can grow your business in smart, fun ways that don't cost a bundle and don't require you to stretch miles beyond your comfort zone.
Let The Binder Strategy help you make this the best year you've ever had.
Price: $149.99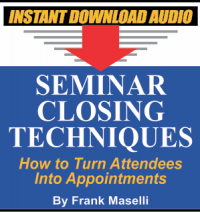 INSTANT DOWNLOAD: Seminar Closing Techniques
Generating appointments is critical for your success with workshops and seminars. With this simple strategy you can double or triple your appointment ratio!   It can be used at any seminar.  It's easy to do and totally product neutral.  Also…it's NOT a heavy-handed sales pitch. That's very important. You can't arm twist or be too salesy at the end of your program. Instead, it's professional and relaxed and it makes the fear of the appointment go away. Try it today…it works!  
Price: $26.00
Getting Started with Seminars: Audio MP3
Seminars and workshops are amazing marketing and client communication tools. But they're not easy. This program will help you mater the basics and cut years off your learning curve. It born from the experience of 4,000 public presentations and decades of work and study. No matter how experienced you may be, don't even think about doing another workshop until you listen to this.
This is the INSTANT DOWNLOAD of the Getting Started audio program. Listen to the MP3 on any device and get started immediately!

 Price: $26.00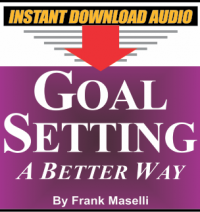 INSTANT DOWNLOAD: Goal Setting A Better Way!
Pretty much everyone in the world agrees that setting goals is a great way to succeed at anything.  But the big mistake we often make is that we set the wrong goals. If you do that, you almost guarantee that you will fail…and the entire goal-setting mechanism that's built into your subconscious will fall apart.  This audio program will help you learn how to set the right goals for your business and for other parts of your life as well. It's a simple process that will start you out on the road to positive achievement. Share it with your entire team and turn everyone into a goal setting champion.  
Price: $26.00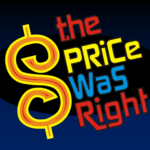 The Price Was Right - PowerPoint Slideshow
Inject some fun and audience interaction into your next workshop. TPWR is a simple but engaging game that illustrates the basics of inflation using everyday items with historical, present day, and future projected prices. It's a quick trip down Memory Lane that will have audiences laughing and learning.  You can download it immediately! 
Price: $59.95
The Personal Profile Interview
This might be the single greatest marketing idea I've ever developed.  The PPI is a customized interview that lets you tell your story in the most compelling and interesting way.  It's not cheap but you could never duplicate this, even for ten times the price with a full-time PR agent. They key is that you have total control of the process. And if there's something that makes you special and different from other professionals, this is the most exciting way to convey that message.
Learn more about The Personal Profile Interview here.
Price: $1,500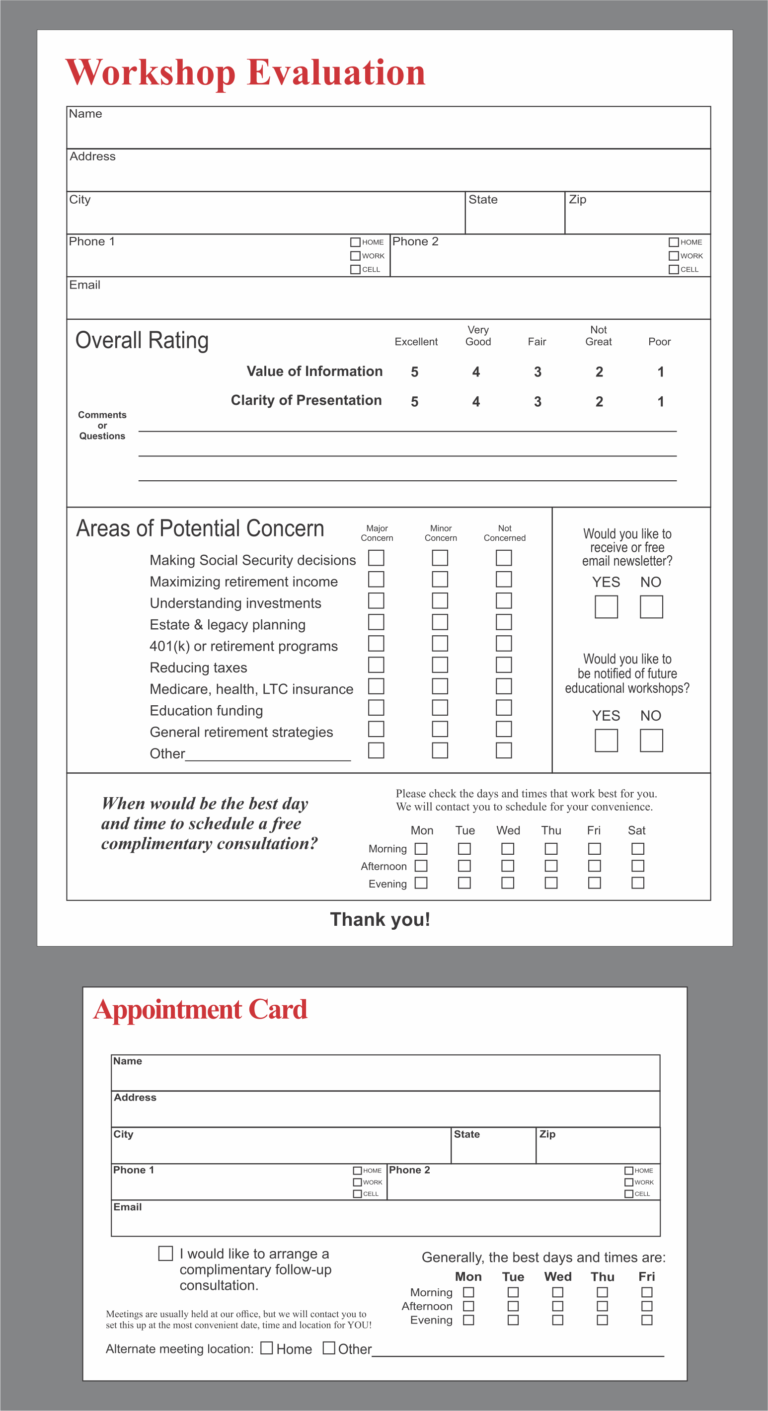 Customized Appointment Card or Evaluation Form
This adds a very nice professional touch to your workshop experience.
To simply add your logo to the card or the form, email me a jpg, tif, or png, file of your company logo and we will insert it and send it back to you for printing.
If you want to modify the form in a more significant way, e-mail me the specific instructions. We will contact you to confirm and send drafts as needed.
Email is frank@maselligroup.com. Turn-around is usually 1 or 2 days max!
Price: $60
A detailed review and analysis of your seminar or workshop video
Send me your workshop video and I will conduct a complete analysis of your presentation from opening to close. This is by far the best coaching process you will find. It will shave years off your learning curve and potentially save you thousands of wasted dollars in trial & error efforts. The analysis takes about an hour and is customized for your specific needs. It includes a planning conversation beforehand where we can discuss any specific concerns you might have. You can upload your video to YouTube, DropBox or any other service you prefer. Or you can snail-mail me the memory card and I will return it to you. Don't miss this extraordinary chance to turn your next workshop into a business-generating powerhouse!
Price: $1,200.00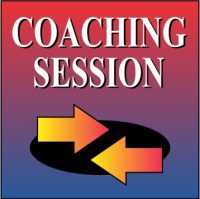 One Hour Individual or Team Coaching Consultation
Private tactical coaching sessions are designed to strengthen your practice. Frank will customize your private tactical coaching session to address your most important and impactful methods of practice. During this session, Frank will help you identify strategies to improve your day-to-day work flow, how you interact with clients and ways to strengthen your practice that can provide tangible results.
Price: $300.00
NEW – Tactical Coaching Program
This is an exciting new approach to coaching.
First, it's GUARANTEED and there is no long-term contract. You book a package of five coaching sessions for $1,200.  If anytime within those five sessions we don't think this is a good fit, YOU GET ALL YOUR MONEY BACK!    
(I don't know any other coach in the industry who does this!)
Second, we focus on growth!  My specialty is helping you grow new assets and bring in clients the modern way.  I don't do "accountability coaching" or psycho-analysis. I believe that most advisors WANT to succeed but they just need some help getting active again.  Many of the growth muscles have atrophied. They need some ideas and strategies to get the blood pumping and generate some excitement and activity in their business.
Third, this is a customized process. It's built around you and your strengths, not mine! There is no "Maselli Method" you need to buy into.  We're going to find YOUR way, your best set of skills, strategies and processes that work for you and your team, and for the kinds of clients you want to work with. I've been doing this long enough to know that there are many paths to success in this business. Every advisor is unique and that's what makes this fun!
This package is good for five, one-hour private or team coaching sessions scheduled as you need them.  After that, you can book another 5 sessions for $1200 or go as-needed for $300 per hour.  It's totally up to you.
E-mail me at frank@maselligroup.com to BOOK A FREE INITIAL CONSULTATION!  Or get started right now with no risk!
Price: $1,200