What Makes
A Maselli TraininG Program Special?
High-Impact. Modern. Relevant. Engaging.
Frank Maselli's deep understanding of the business and real-world experience give him unparalleled credibility with anyone from raw rookies to multi-million-dollar producers. They know that he's someone who can truly help them grow and enjoy their business more.
Frank Maselli's Training Programs are Memorable
High-impact: people do something immediately- this training creates positive behavior change
Modern: these are fresh ideas that reflect today's issues and client attitudes
Relevant: the content comes from the real world or today's financial pros
Fun: our delivery is engaging and passionate and entertaining
Frank Maselli is one of the most dynamic and insightful trainers/speakers in the financial industry today. He has worked with thousands of advisors, managers and wholesalers across the nation from firms including Merrill Lynch, UBS, Morgan Stanley, Charles Schwab, MetLife, Lincoln Financial, Nationwide, Pacific Life, AXA Advisors and AGF of Canada.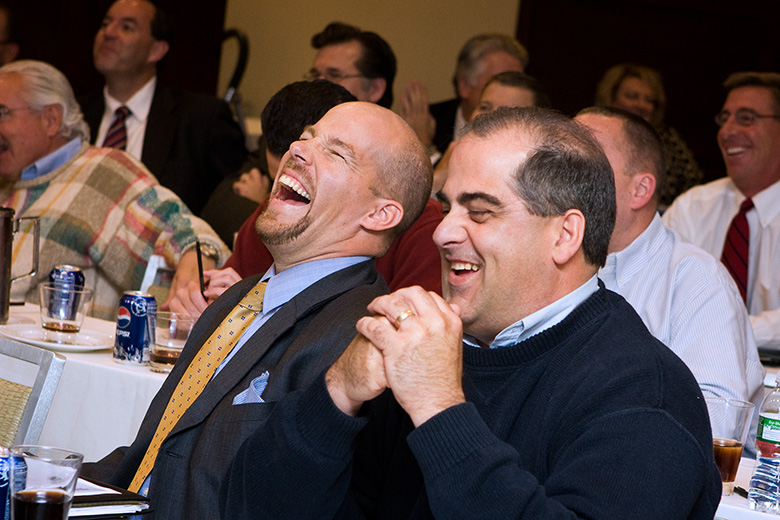 During a thirty-five-year career, Frank has served in a wide array of successful roles including advisor, branch manager, wholesaler and most recently as Executive Vice President and National Sales Manager of Natixis Asset Management in Boston where he created the renowned Advisor Academy.
Frank's passion for the business and unique sense of humor bring these training programs and keynote presentations to life. He consistently is ranked as the top speaker at hundreds of industry conferences nationwide.
Frank is also the author of three best-selling books: Seminars: The Emotional Dynamic, Referrals: The Professional Way and 40 Tips for the Under 40 Advisor.
"Frank Maselli is absolutely awe-inspiring. He grabs hold
from beginning to end. I recommend Frank to anyone that wants to learn more about the business."
Best-Selling Author & Industry Expert
Frank's three best-selling books will forever change the way you grow your business.
They are tremendous resources for every advisor!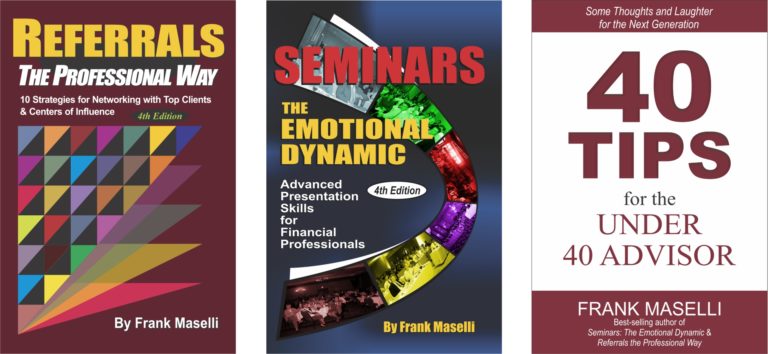 Modern Ideas: No ancient "war stories" or tired sales ideas. Frank's strategies are bold, new, exciting and they work! He will transform your business in ways no other speaker can. You will leave fired up and with specific tools to get going NOW!
Solving the Big Issues: Frank is a true expert in helping advisors find new clients and new assets, generate referrals, build a team, strengthen client relationships, communicate their remarkable value and enjoy this amazing profession.
"Frank's wit, wisdom and common sense is a must for anyone in our business."
Frank Maselli offers these training programs. Each may be combined with keynote speaking engagements as desired.
Many of these training programs can lead into tactical coaching sessions that provide customized focus on skills training.
Related Programs & Publications:
Many leaders have benefited from additional programs Frank Maselli offers. Contact us today to customize an event.
919.329.2723 • frank@maselligroup.com
"Frank's presentation to the FPA of New Jersey was like a breath of fresh air.
Frank's grasp of the industry, coupled with his candor and sense of humor,
energized and inspired our attendees,
daring us to see the value we bring to our clients."