Advanced Skill Training for Advisors
Financial Advisors need MODERN SKILLS to succeed today!
Modern is what my training programs are all about. How can financial professionals grow their business and reach out to new clients in new ways that go far beyond the old techniques of the past?
The goal is twofold: growth and greater enjoyment. My training programs will absolutely win you new clients and assets, and also generate more fun and positive energy than you might have imagined possible. The days of beating your head against a wall are over. No more arm-twisting, or heavy-handed tactics.
It amazes me how little training there is in the business today. It seems that firms expect you to somehow be born with skills. Oh, there's plenty of product training. But in all my years in the business I've never met a single advisor who was struggling from lack of product!  If anything we need to find better prospects, more clients, and stronger relationships.
Here are a few of the topics we cover in the advisor program. There are separate programs for wholesalers and managers.
Seminars and workshops
Trade show marketing
Event marketing
Referrals (from clients and centers of influence)
Client psychology
Objection handling
Branding
Target or niche marketing
Social networking (with personal contacts)
Web-based marketing
Effective direct mail techniques
Team development
Motivation & personal discipline
Listening skills
These training programs are delivered live and in-person by me.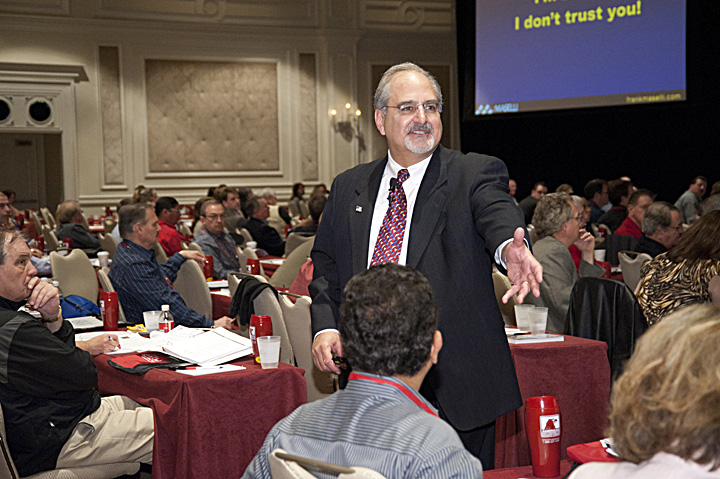 Seminars: The Emotional Dynamic
Time Management for Financial Advisors
The Professional Conversation
SPECIAL TWO-DAY ADVISORY PROGRAM
FINANCIAL LIFEGUARD ACADEMY
TAKE HOME THESE BEST SELLING PUBS
Frank's best-selling books will change the way you grow your business. You can order these books and other fantastic guides online from
THE STORE and have them shipped directly to your door.
919.329.2723 • frank@maselligroup.com