Leadership & Management Program
Are you a Leader or a Manager?
What is the difference?
Are they mutually exclusive qualities and behaviors?
Is one more valuable to the organization than another?
Can you be both? And if so...HOW?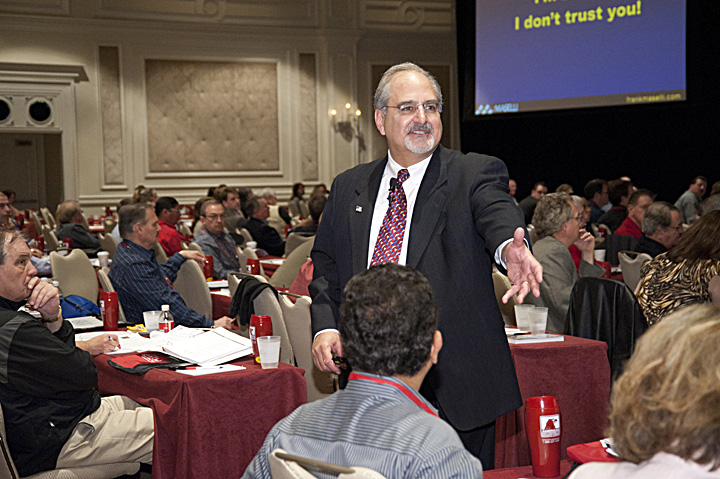 This program is designed to help everyone from front-line supervisors to C-level executives radically improve their understanding and approach to leadership and management.  It's based on a foundation of time-trusted principles with modern skills implementation. It will help you better serve your people and improve your team's or organization's effectiveness and impact.
After serving as a U.S. Army Officer I came into the financial profession and have held very senior leadership positions on both the "distribution" side and the "product" side of the business. This rare blend and variety of experiences has informed my training program and made it unique in the industry. It also enables me to customize the experience to fit your specific needs.
Drop me a line to learn more:  frank@maselligroup.com  
or call 800-231-5272.
Overlap, Not Conflict
Differences and Similarities
The Unique Powers of Leadership
The Internal Kirk/Spock Partnership
Shifting Gears: When to Lead vs. Manage
10 Critical Behaviors of Top Leaders
Building a Leadership Brand Identity
Instincts or Management Success
The Power of Instinctive Behaviors
Maximizing Your Deepest Strengths
Honing Your Natural Leadership Style
Customizing Your Management Approach based on Strengths
Reducing Stress and Increasing Impact
Finding Strengths in Others
"Frank's wit, wisdom and common sense is a must for anyone in our business."
Additional Training Programs The Maselli Group also provides.
Frank Maselli offers these Training Programs. Each may be combined with Keynote Speaking Engagements as desired. Many of these Training Programs can lead into Tactical Coaching sessions that provide customized focus on skills training.
800.231.5272 •
frank@maselligroup.com