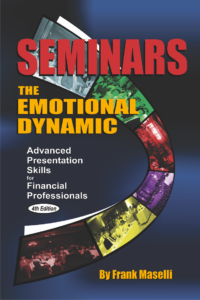 The industry "bible" for all types of presentations and events!
Seminars can be one of the greatest marketing tools you have…but they're not easy and they're not cheap. So to avoid wasting a ton of money and time, learn the advanced skills necessary to make your events the most powerful and effective they can be. This book is a complete
exploration of the world of financial seminars and workshops. 
"I strongly recommend that you use Frank Maselli's book, which — among its many other attributes — shows you how to organize, build an audience for, and deliver great seminars much better than I could…and in infinitely greater detail."
Nick Murray in "The New Financial Advisor"