Welcome to The Maselli Group
Resource Vault
This area is reserved for publications, audio or video files, books and other resources that will be helpful for financial advisors, and other professionals seeking to improve their practice.
Bookmark this page and return often to stay current with relevant information that will help you refine your practice and remain competitive.
Audio podcast: The NEW Power Close
The goal of a workshop is to educate and genuinely help the public.  BUT…it's also to build relationships with new clients who would benefit from your wisdom and expertise. This "closing technique" will help you maximize the number and quality of appointments you generate from your workshops!  
The Amazing Power of the Q&A Session!
The Question & Answer segment of your workshop is absolutely critical to your success. But many advisors seem to be skipping this…and it's a HUGE mistake! 
There's no need to hide from questions anymore!
This new white paper will show you why and how to do a simple but super-effective Q&A that will dramatically enhance your stature and increase your appointment ratio. 
Chap. 16 - Speaker Nightmares
This is the the chapter in my book (Seminars: The Emotional Dynamic) that deals with speaker "nightmares" like the sniper, the griper, and the SOCK. It goes into detail on how to handle difficult people if they pop up at your events. Click on the image to read and/or download it.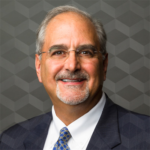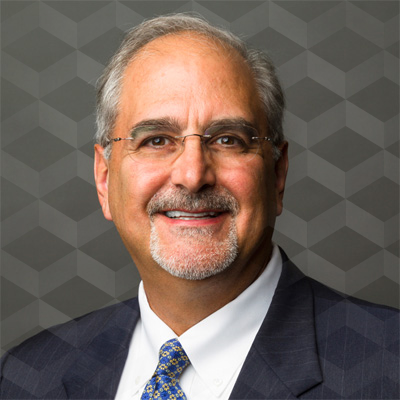 Frank's Podcasts deliver fresh ideas and meaningful tips on how to improve your business. They are a great resource to follow with new updates regularly.
This is a very simple card that you can download and have printed for your workshops. It gathers all the important information and gives people choices for date, time, and location for this critical first appointment.  You can print 2 half-page-sized or 4 quarter-page-sized cards. For a small fee we can send this to you with your company logo on it. Email frank@frankmaselli.com if you're interested. 
The Financial Lifeguard Challenge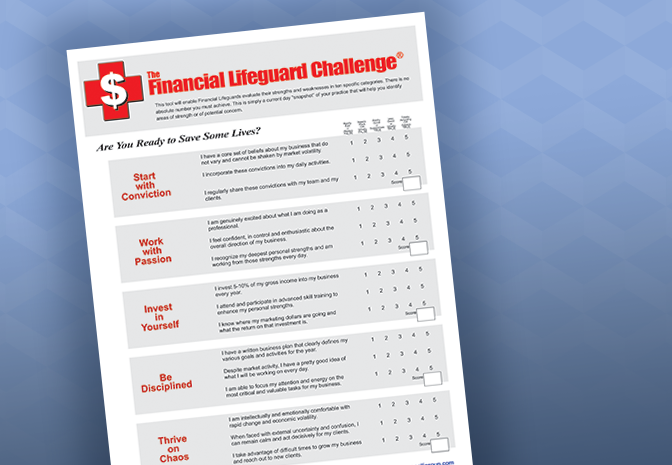 The Lifeguard Model is based on the reality that we are a life-saving profession…infinitely more valuable than we think or than the media portrays us. Take this simple test to see if you qualify. Click here to read and download
Lifeboat drill is one of the most critical conversations you can have with your top clients and prospects right now.  It will demonstrate that you are a proactive and intelligent professional who is constantly on guard for trouble and opportunity. It will also help you consolidate client assets and generate referrals.
Download the entire script and give it a try.
New Lifeboat Drill
The Binder Strategy is a powerful prospecting and "drip-marketing" tool that has numerous uses. It is proving highly effective at targeting hard-to-reach prospects and it does so in a unique way that distinguishes you from your competition. 
Click HERE or on the image to listen to the audio explaining how it works.  The full program with all the print files is available in The Store.  If you have questions, please e-mail Frank at frank@maselligroup.com
Together with White Glove, Frank Maselli created a series of informative videos to help you improve your own presentations and ultimately lead to increased business.
Even if you're doing educational workshops only and not the traditional lunch or dinner events, you STILL need some kind of snacks. People like to eat and drink and this is one way of making your folks feel comfortable and welcomed at the event. Doing it right also sends a subliminal message about you and the way you treat you clients. Very nice!!
Don't leave home without these 10 simple rules of workshops. They will always help you. 
Video: Opening & Closing Practice
I'm not a big fan of practicing every part of the workshop beforehand. But there are two parts of the event that you absolutely must "nail."  The Power Opening and Close are essential for your success. So practice those until you can deliver them in your sleep. 
Video: Two Topics that Resonate
There are two topics that you can weave into almost any workshop and they are generating a tremendous buzz from every audience. One is the discussion of Sequence of Returns Risk, which can be devastating to a retiree's portfolio. The public is woefully uninformed about this issue. The second topic is the idea of taking some chips off the table and "de-risking" or protecting a portion of their assets. We are in the longest bull stock market in US history. For some clients, this idea will make a lot of sense..and make you look smart too.   
Video: Handouts for the Workshop
It's very important to give people something when they walk into your workshop. A simple pocket folder can be very effective.  Stay away from sales material and stick with educational materials only. Include an agenda and a bio.  I don't recommend giving the audience copies of the slides because it ruins the drama. Instead I give out customized note paper with the title and date of the workshop. And, for advisors with a unique or interesting story to tell, use the Personal Profile Interview (PPI). It  can be a major homerun! 
Video: Start and end on time
Starting and ending on time seems like an obvious no-brainer. But sometimes, you might be tempted to wait for more people to show up and delay the start. Or you might be in a lengthy Q&A session and running late. Try really hard to stick to what you promised them. People often get annoyed when things don't run according to the schedule
The Personal Profile Interview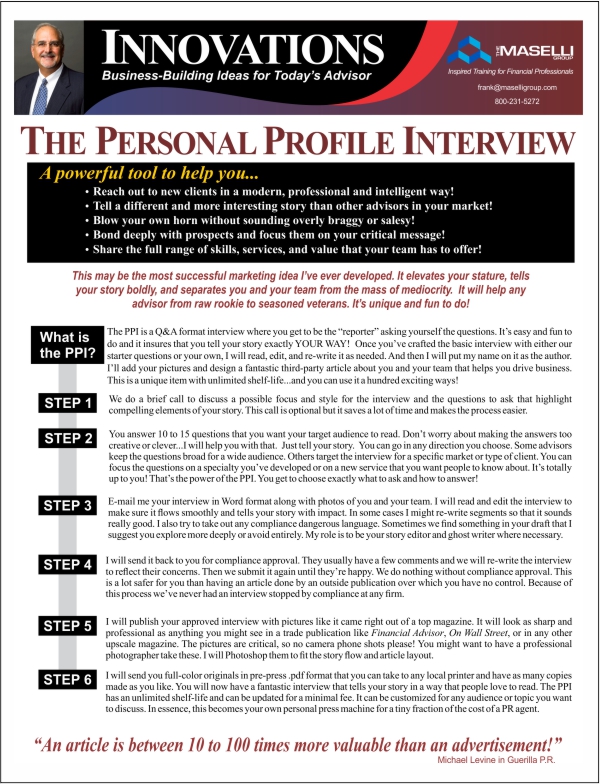 This might be the most powerful and advanced marketing idea I've ever developed.  It can help you tell your story in a unique and professional way. It elevates your stature with clients, prospects, centers of influence and local community leaders.  It will help raw rookies and seasoned veterans.
Click below to read more about the Personal Profile Interview:
The Personal Profile Interview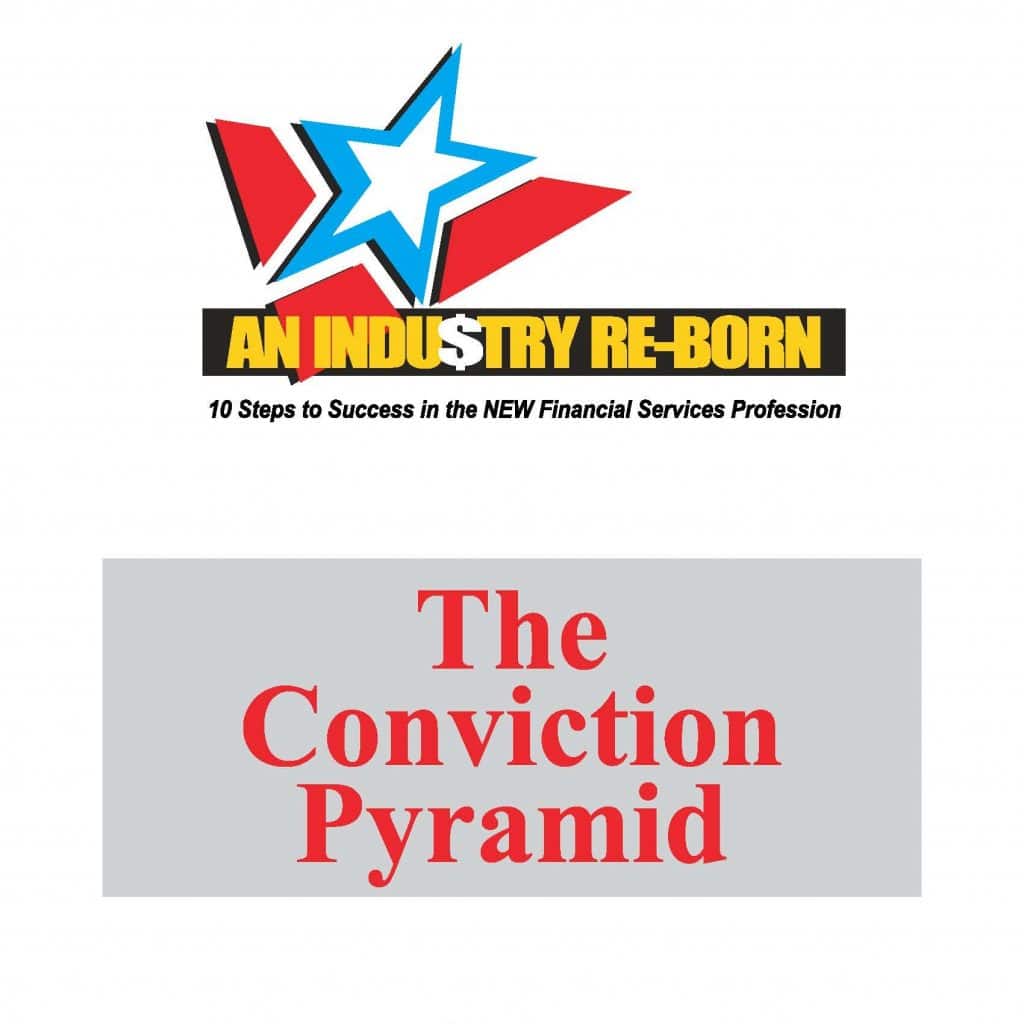 Conviction is the rudder of your ship. It is a set of beliefs, attitudes and actions that keep your business on course every day. No one can give you conviction, you have to build it yourself and The Conviction Pyramid will get you started in just three steps.
Click here to read and download
The Conviction Pyramid
The 6 Ps – A Guide for Understanding
& Marketing Managed Money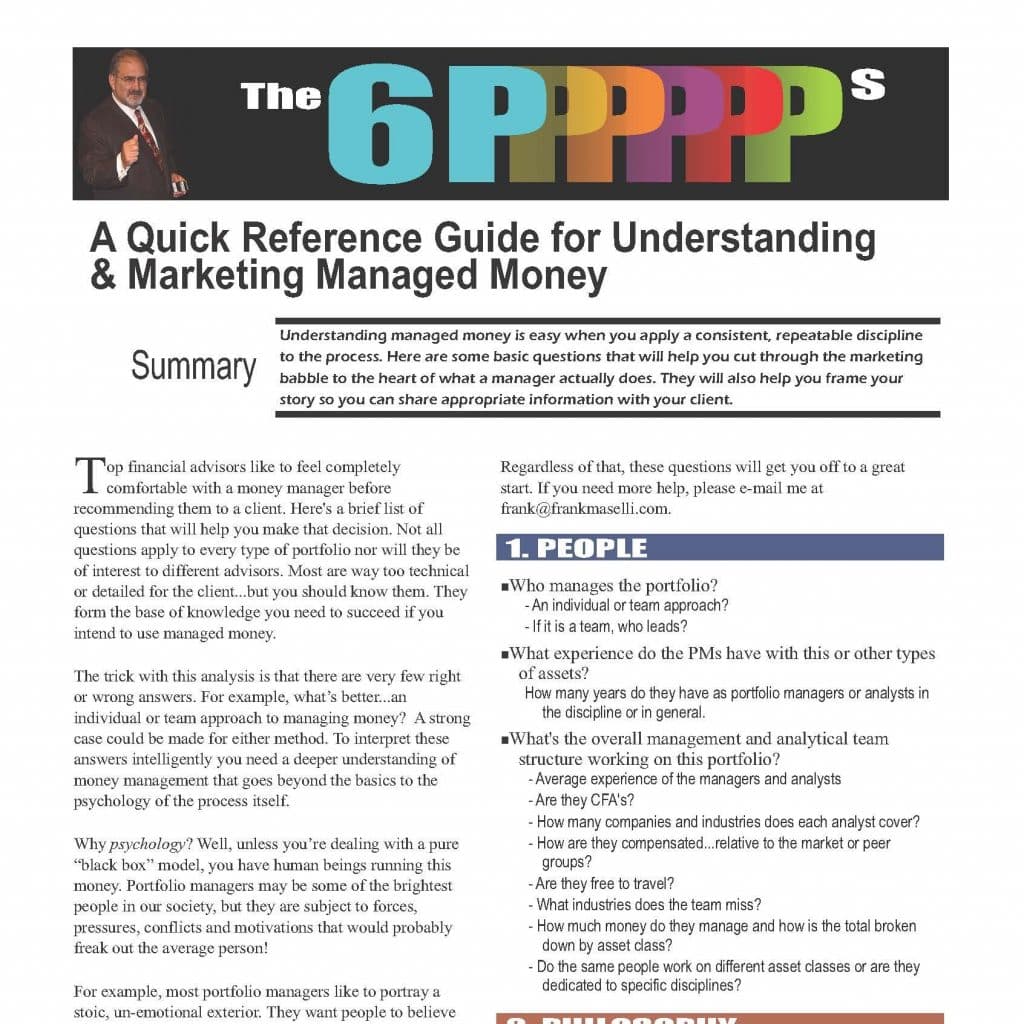 This article is a quick reference guide for understanding and marketing managed money and mutual funds. It will help you get comfortable with the essential elements of any story.
Click here to read
"The 6 Ps"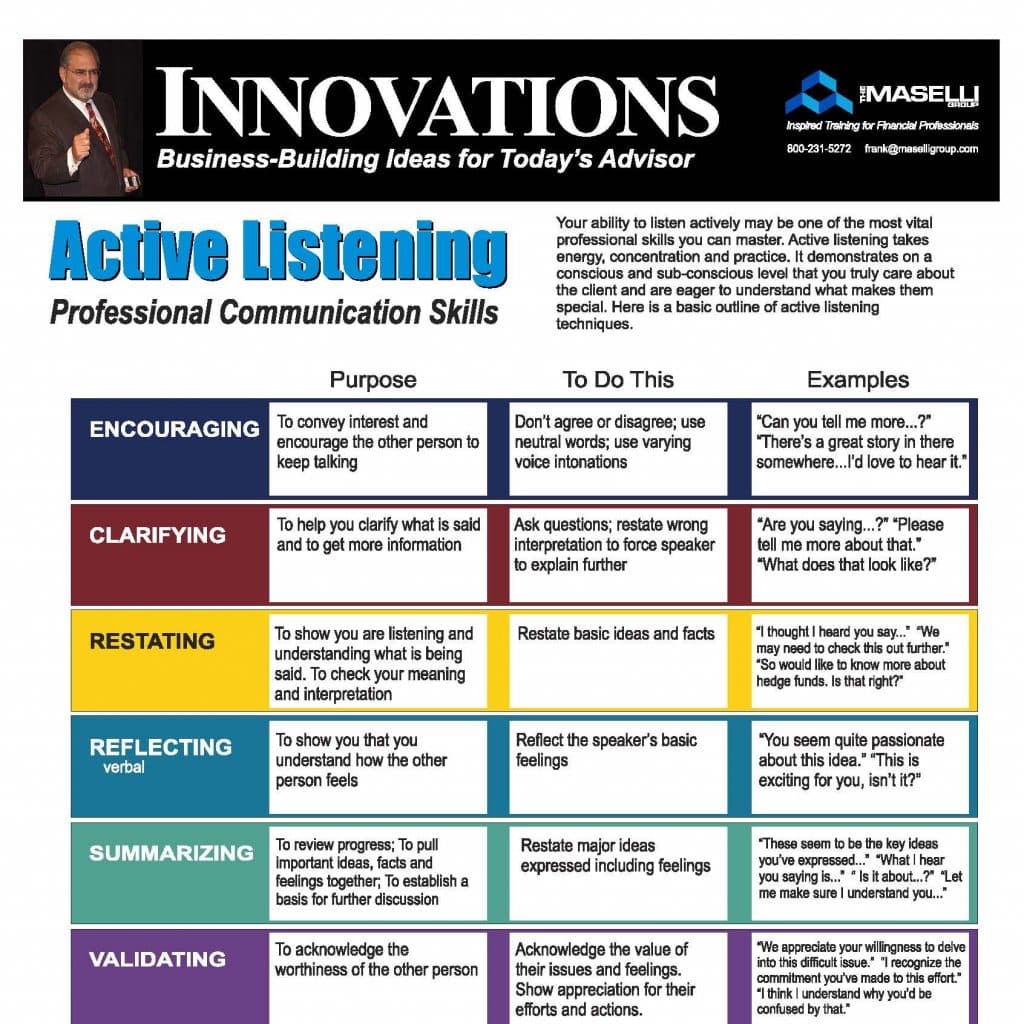 Active listening is a powerful skill that will dramatically enhance the quality of your client relationships and differentiate you from your competition. It's easy to learn but requires regular practice to master. This one-pager will get you started and keep you on the right track.
Click here to read "Active Listening"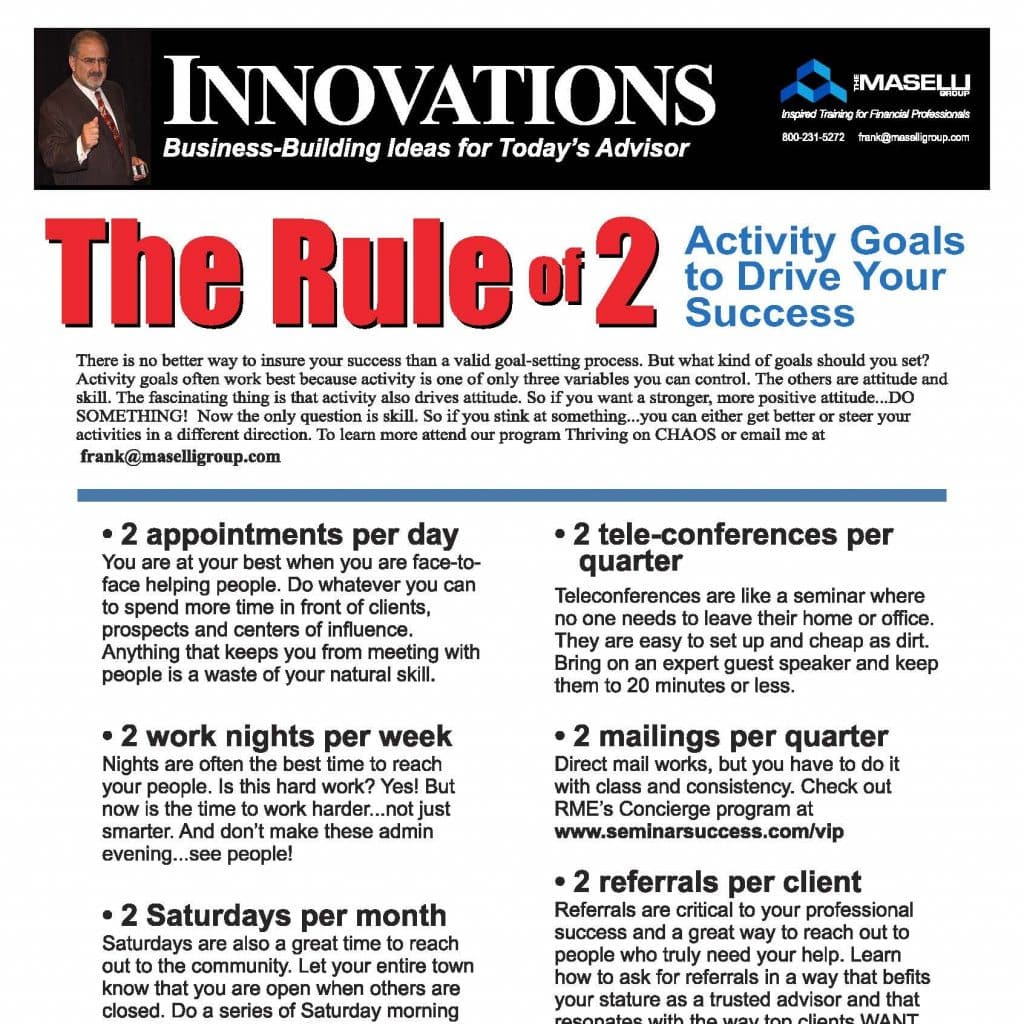 Setting the right goals is essential for success. And the only goals you should set are the ones you can control…which is why it's better to focus on ACTIVITY.  Here is a simple list of suggested activity goals that will drive your business success. Click below to read and download:
Prospecting Program Flyer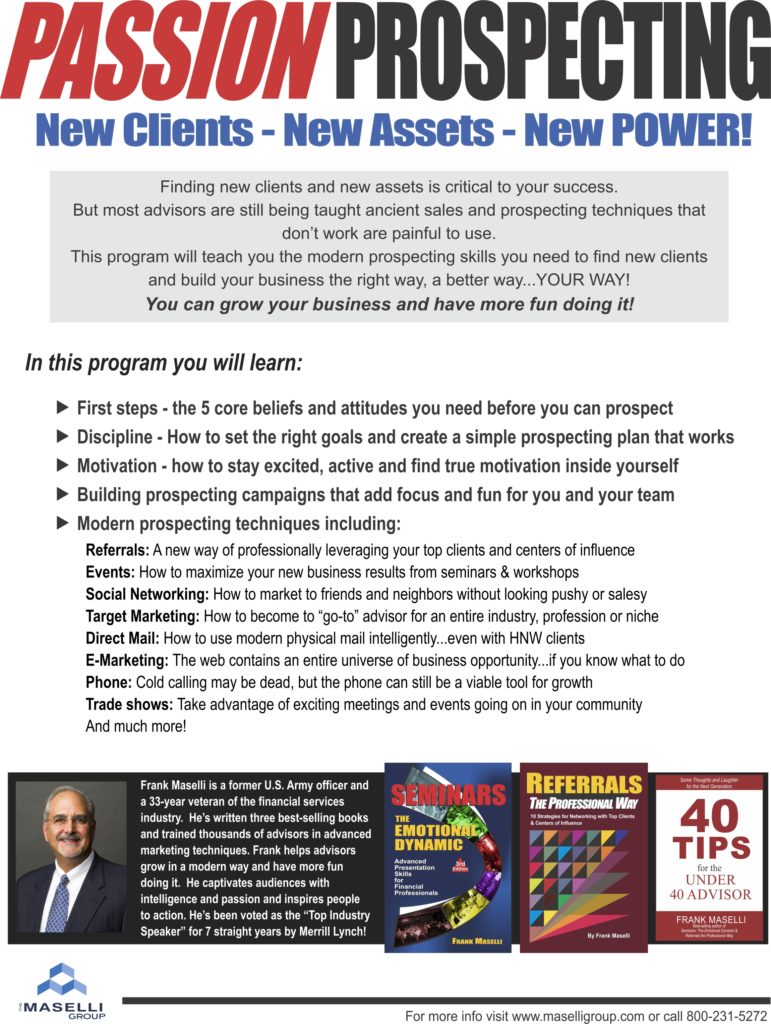 "PASSION PROSPECTING:
New Clients – New Assets – New Power!"
This training program is designed to help advisors get back to growing their business with modern skills and techniques that actually work! Click below for a one-pager that explains some of the details.
Click here to read
"Prospecting Program Flyer"
12 Question Psychological Interview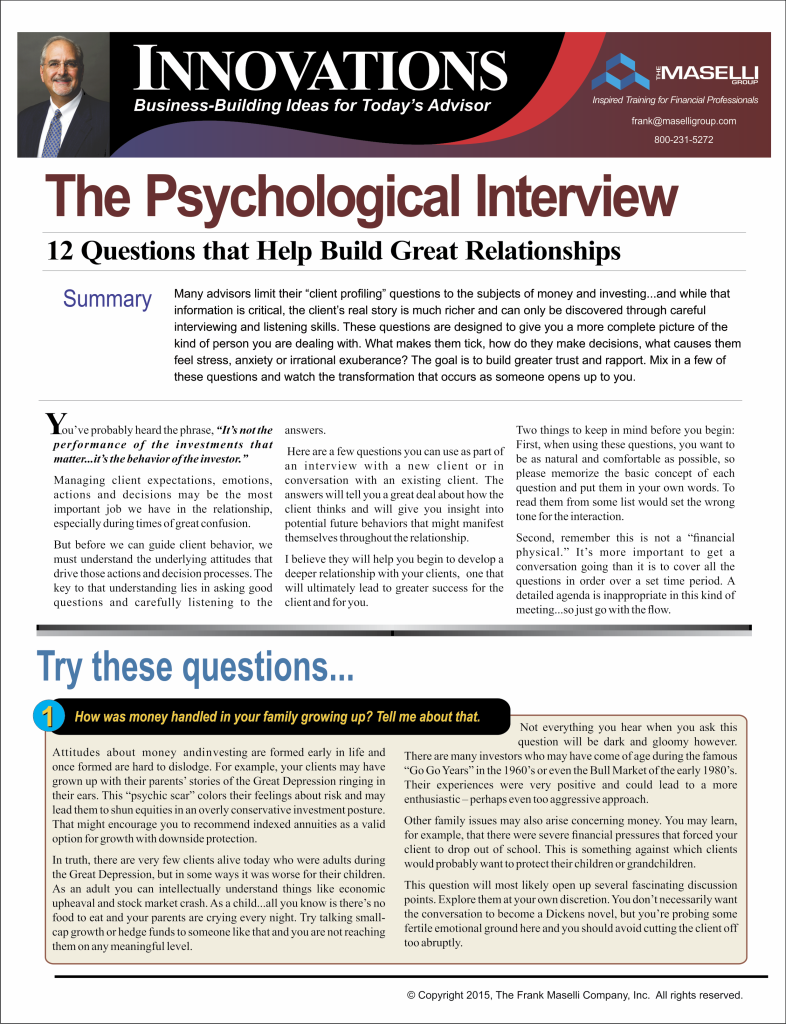 These 12 questions will help you build great relationships and can be used in almost any profiling scenario. The answers reveal what type of person your client is and the best way to work with them. Don't use these in rigid order from 1-12, but instead let them guide you through a natural and relaxed discovery process.
Read about Active Listening before you implement this interview.
Click here to read
"12 Question Psychological Interview"
Frank Maselli Offers Custom Tactical Coaching Programs
Frank will customize your private tactical coaching program to address your most important and impactful methods of practice. During this session, Frank will help you identify strategies to improve your day-to-day work flow, how you interact with clients, and ways to strengthen your practice that can provide tangible results.
Private coaching sessions are for individuals or management teams.
Read about Custom Tactical Training Programs.
919.329.2723 • frank@maselligroup.com
Related Programs & Publications:
Many leaders have benefited from additional programs Frank Maselli offers. Contact us today to customize an event.
919.329.2723 • frank@maselligroup.com